---
You are here:
Landscaping and Landscape Design
---
Landscape Gardening Is A Passion For Life
Flair & passion is at the heart of all our projects. Intelligently applied, this leads to the creation of inspirational gardens with an emphasis on aesthetics and enjoyment but without the burden of aftercare.
Pleasure, Not Work
Goddard's gardens are designed for you to relax in with a minimum of maintenance and ongoing care. Whether we are landscaping Brighton town houses or landscaping Sussex mansions, our plan is always the same – you will spend most of your time sitting and enjoying the garden, not putting on your gloves and working.
We Do All The Work
Our own team offer a full range of landscaping services and this in house skill is used to complete the vast majority of the landscaping projects without bringing in external parties. This way we can make sure each project produces the garden that was originally envisioned.
Design, Consult, Advise
We are happy to offer suggestions & recommendations for the potential layout of landscape redevelopments and offer a full design service as required. Goddard's Landscapes undertake complete landscaping projects. Whether you have a blank canvas or an overgrown wilderness, we will transform your garden into the space you've been dreaming of. So whatever you have in mind, be it:
A suburban sanctuary.
A countryside haven.
Your very own masterful grand design.
Contemporary or classic.
Formal straight lines or dramatic sweeping curves.
We can help you realise the full potential of your garden or grounds.
Recent Case Study
April cottage, West Chiltington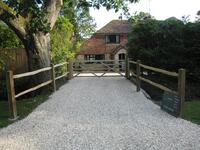 From the very first glimpse of this lovely cottage, oozing period character, it was plain that the access would be an issue for the owners. Any alterations had to be tastefully done and in-keeping with the age and style of the property.
Landscaping & Garden Services In Brighton: